Spring 2010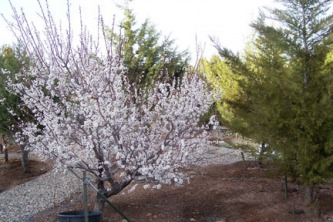 April 16, 2010. The fruit trees are starting to blossom. Forsythia and daffodils are in full bloom. The tulips and iris are opening and the flowering plum trees are waking up from their winter slumber to display their beautiful pink colors. This year, we expect a spectacular showing from our cherry trees as they really grew last year! There is something so special about living here. We are surrounded by beauty out every window of our home. Ah, spring. The Robins splashing in the waterfall as they enjoy a morning bath, there are flowers opening everywhere and the grass is turning a deep, healthy green. This week, I will begin planting our vegetable garden, which will provide beans, tomatoes, corn, radishes, cilantro, bell peppers, jalapenos, and squash throughout the summer. The fruit trees provide peaches, pears, apricots, and apples for all my homemade jams, jellies and sauces. Our blackberries, grapes and strawberries top off our delicious summer garden. Other than meats and milk, we are becoming very self-sufficient on the mountain!

---
Paradise Ranch in the Winter!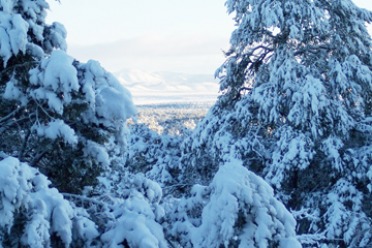 Every season brings another reason to fall in love with the beautiful mountains of Northern Arizona. In this section, I have included pictures of our ranch from every season. It doesn't take long to understand, that although I have traveled around the world teaching, and I have seen some incredibly beautiful places....there truly is no place like home!
---
Paradise Ranch in the Spring, Summer and Fall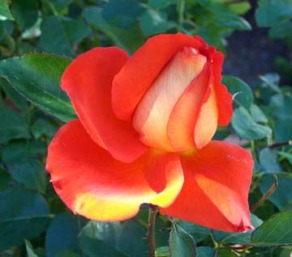 My gardens include roses, snapdragons, mums, petunias, Lilacs, salvia, cosmos, dianthus, sunflowers, gladiolas, daffodils, geraniums, iris, and many flowering trees. I created the gardens to remind me of the beautiful gardens in London, Sweden and China. Every year the gladiolas surprise us, because their colors change and intensify. The mums begin to bloom in late July and continue through the end of November. Every color imaginable is duplicated our garden, and there is nothing more uplifting than waking up in the middle of a forest, surrounded by beautiful flowers! Most of the garden flowers are perennial, but I do add some annuals for a splash of unexpected color in thin areas.
---